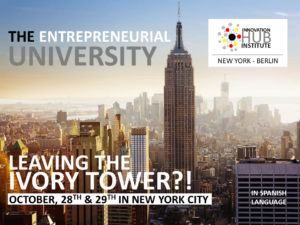 Workshop for entrepreneurs and academics in New York
Deadline for registration: October, 09 / 2019
The workshop is in Spanish language / with Spanish translation.
New York, October 28 & 29 2019
How Germans Innovate (HGI) is a concept with the aim to train and advance the participants' knowledge with best practice examples from German companies and technological centers. This program also offers themes such as global technological changes and trends (digitalization, Industry 4.0). HGI consists of innovative components and tools in the fields of innovation management, technology transfer and scientific organization with regards to various industries. Universities and companies in Latin America have the opportunity to take advantage of these insights to implement efficient innovation strategies into their local context. This will allow these organizations to be able to link themselves more efficiently with all the actors in the innovation system.
Topics
Entrepreurial University I – Notion & Theories
Entrepreurial University II – Context & Examples
Entrepreurial University III – Implementation Strategies
Entrepreurial University IV – Recommendations
At a glance – Concepts, cases & strategies
WHY?
Universities have a very valuable role in the innovation economy. In an increasingly knowledge-based, digitalized society however, universities have to find new ways to position themselves to governmental and corporate actors and to respond to the changing demand of students and companies.
WHAT?
The entrepreneurial university is designed to strengthen the strategies: (1) to become more innovative in research and more creative in teaching, (2) to transfer knowledge across the university boundaries by collaboration or venturing and (3) to contribute to learning of its societal environment.
HOW?
Through our concept "How Germans Innovate" we (1) train the participants with the particular theories and concepts, (2) transfer knowledge with best-practice examples and (3) provide support in the development of more entrepreneurial settings for Latin American universities.
---
AUDIENCE
The workshop addresses decision-makers and opinion-leaders in universities with the vision to develop a competitive advantage for their institutions and a innovative environment for their stakeholders.
TRAINERS
Prof. Dr. Andreas Braun, expert in Innovation Management; Dr. Rafael Palacios, expert in Scientific Organizations for innovation and Franziska Rossig expert in teams and innovation.
COSTS
The workshop costs $1.350.00 per person. The price includes: certificate, all the training materials and tuition fees as well as one welcome dinner. Accommodation and travel expenses are not included.
Programme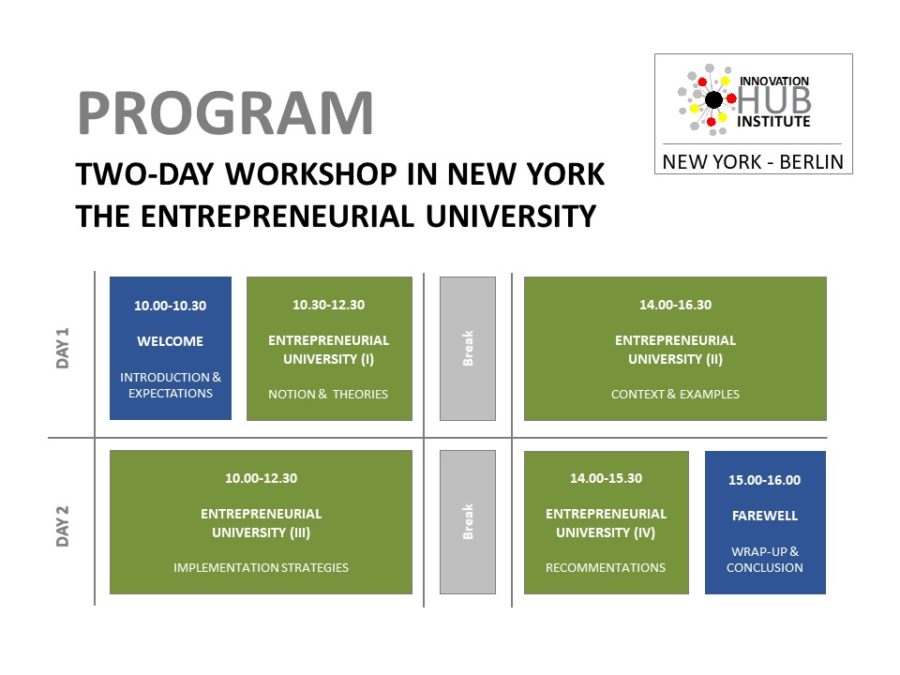 Prof. Dr. Andreas Braun (MBA)
– Co-founder of Innovation HUB Institute
– More than ten years of professional experience
– Area of competence: innovation management
– Professor at the BSP Business School Berlin
Dr. Rafael Palacios
– Co-founder of the Innovation HUB Institute
– More than ten years of professional experience
– Area of expertise: transfer of international knowledge
– Lecturer at at the BSP Business School Berlin
Franziska Rossig (M.Sc)
– Bachelor and Master in Economical Psychology
– More than three years of professional experience
– Area of competence: teams and innovation
– Consultant at Innovation HUB Institute